The spooky season is upon us. This means Halloween parties and get-togethers. Step up your party food game with these thirty Halloween themed party foods. 
1. Spooky Candy Apples
Candy apples are a staple fall food. Step up your candy apple game by giving them a Halloween makeover.
Learn here how to make Candy Apples with Gummy Worms
Learn how to make Jack Skellington Candy Apples
Get the recipe for Poison Candy Apples
2. Mummy cupcakes
Mummy cupcakes are quick and easy to make and decorate. Get the recipe here and whip up these and add a little oomph to your Halloween party.
3. Halloween themed sugar cookies.
Buy a set of spooky cookie cutters from Amazon and use this fantastic sugar cookie recipe from Preppy Kitchen to serve up some spooky Halloween themed sugar cookies.
4. White chocolate ghosts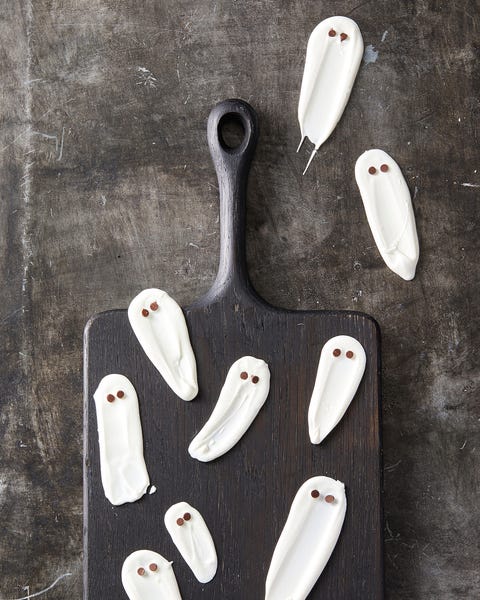 This is one of the easiest dishes you can make. They taste as good as they look!
Get the recipe from here.
5. Halloween Veggie tray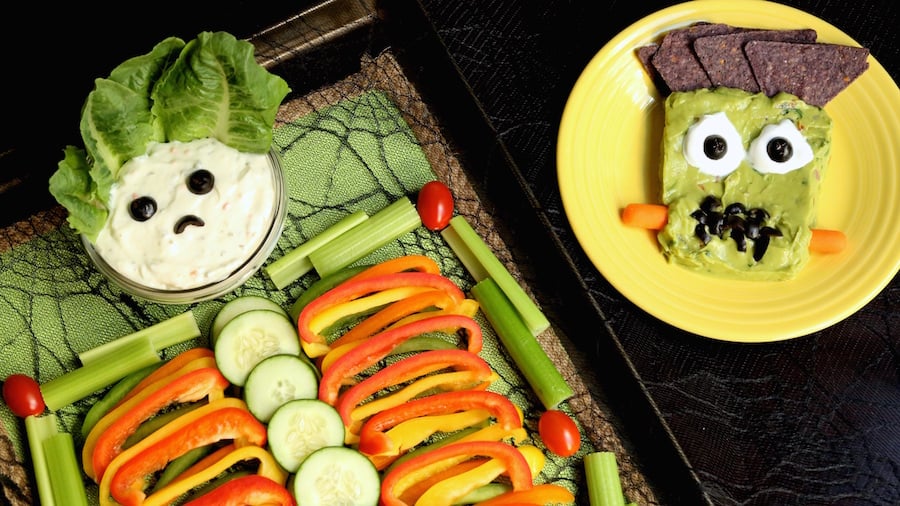 All parents worry about the sugar overload their kids suffer from on Halloween. This tray is a great way to inspire your kids into eating their vegetables.
Get the recipe from Cooking with Jamaica!
6. Monster-themed Halloween cake
There's a surprise inside each of these cakes, and they taste even better than they look!
Get the recipe From How to Cake It
7. Bloody Mary syringes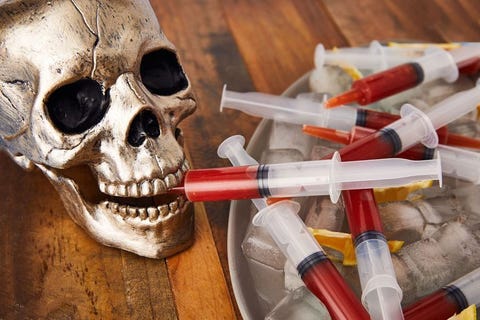 While this boozy treat isn't meant for children, they are sure to entertain the adults!
Learn how to make your own from Delish
8. Halloween snack tray
There is no rhyme or set recipe for making a Halloween snack tray. Just grab a big tray and pile it up with your favorite Halloween candy and arrange them artfully to make the most creative and colorful Halloween snack trays.
9. Monster Pizza bites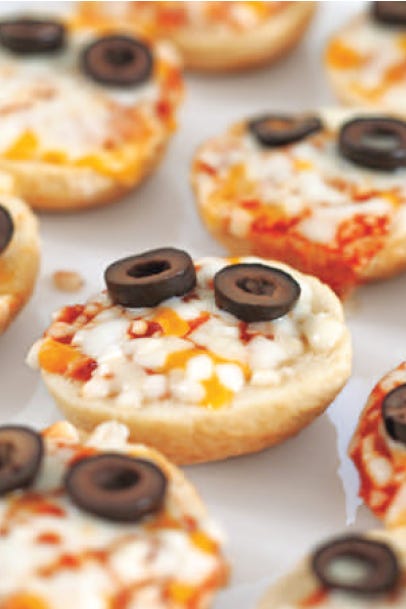 Use this easy recipe to make some delicious pizza bites, then add some black olive eyes to turn them into monster pizza bites.
Get the recipe here.
10. Black cat, spider donuts and mice donut holes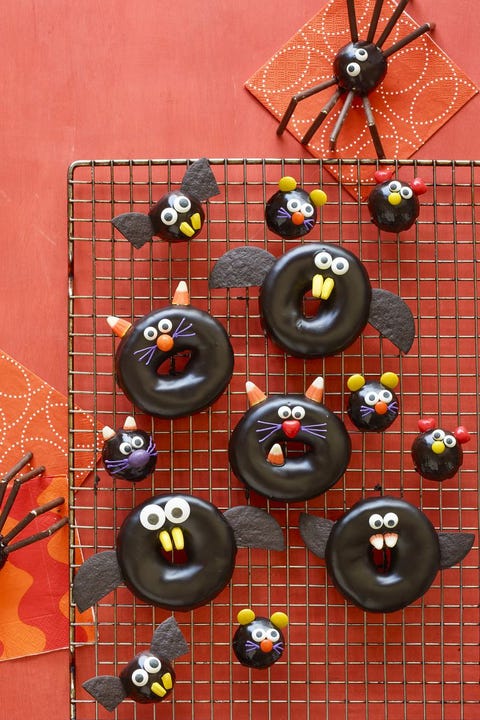 Add a funky twist to your ordinary donuts and turn them into cute cats, bats, and spiders. Don't waste the donut holes and turn them into cute edible mice.
Get the recipe from here.
11. Mummy garlic bread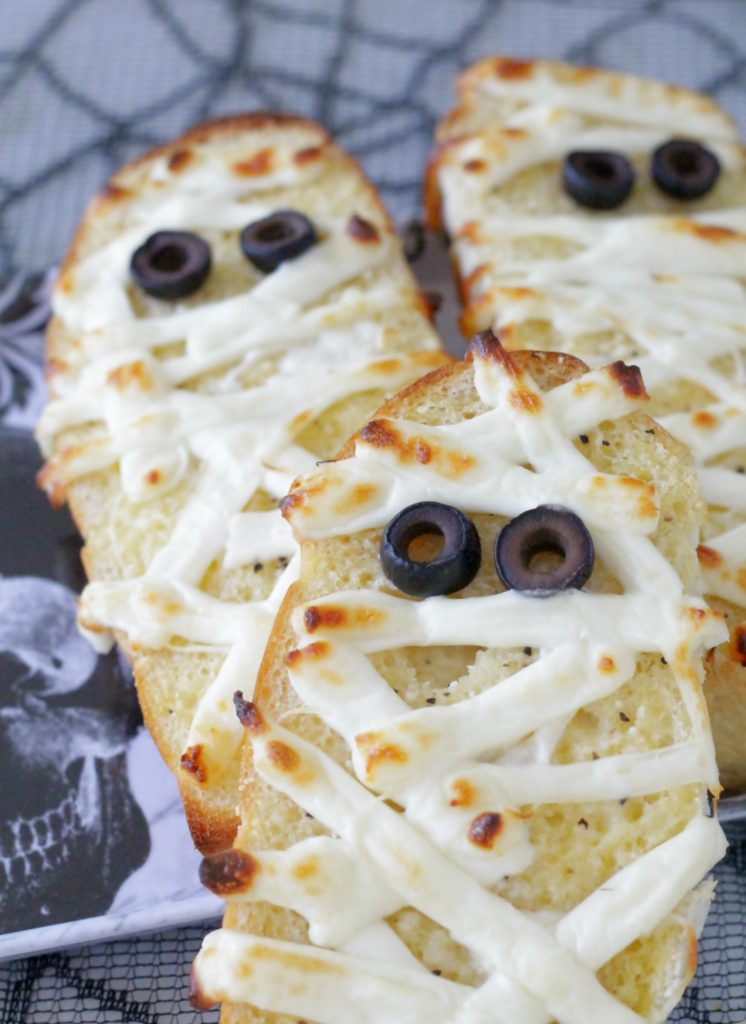 Who doesn't love cheesy garlic bread? Give your garlic bread a Halloween twist by turning them into mummies!
Get the recipe here
12. Glow-in-the-dark cupcakes
Satiate your sweet tooth and light up your Halloween party with these glows in the dark cupcakes. They look simply magical in the dark!
Get the recipe from the Scran Line!
13. Graveyard Taco-dip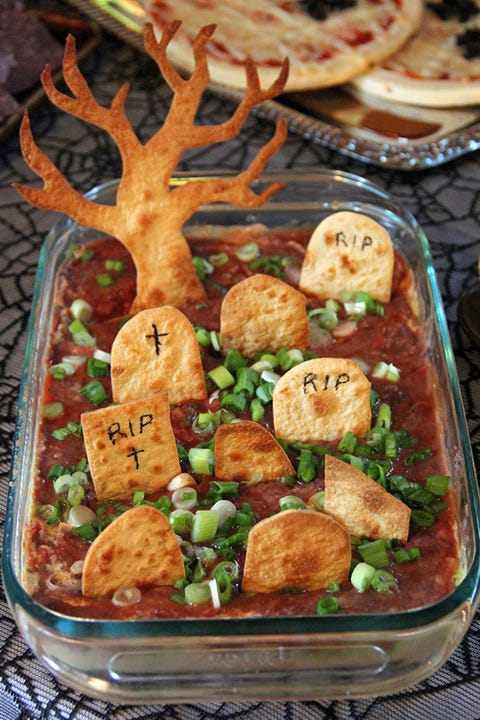 Make your ordinary taco dip spooky by using a food marker to write on tortilla chips and turn them into headstones.
Recipe for graveyard taco-dip- here.
14. Cauldron cake
Wow your guests with this witches' cauldron cake. It's easy to make and tastes delicious. Also, it's enough to feed a lot of people at once!
Learn the recipe from The Starving Chef.
15. Skull cookies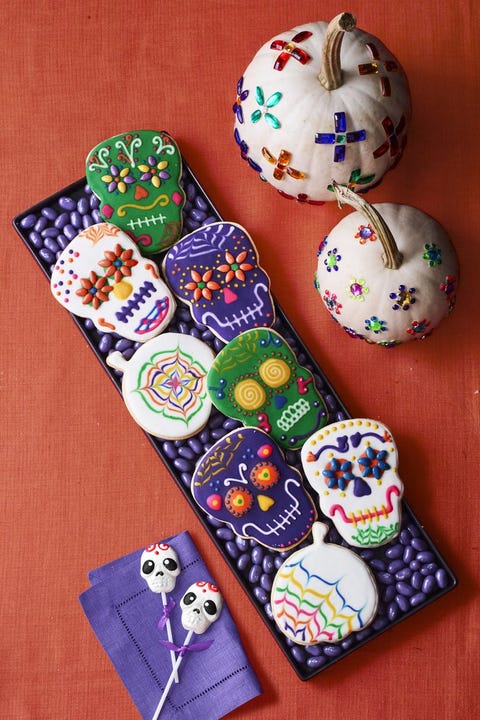 Also known as "The Day of the Dead" cookies. Buy yourself a set of skeleton cookie cutters and decorate the sugar cookies to look like colorful skulls. Use colorful icing to draw intricate-looking designs on your cookies.
Get the recipe here.
16. Edible brooms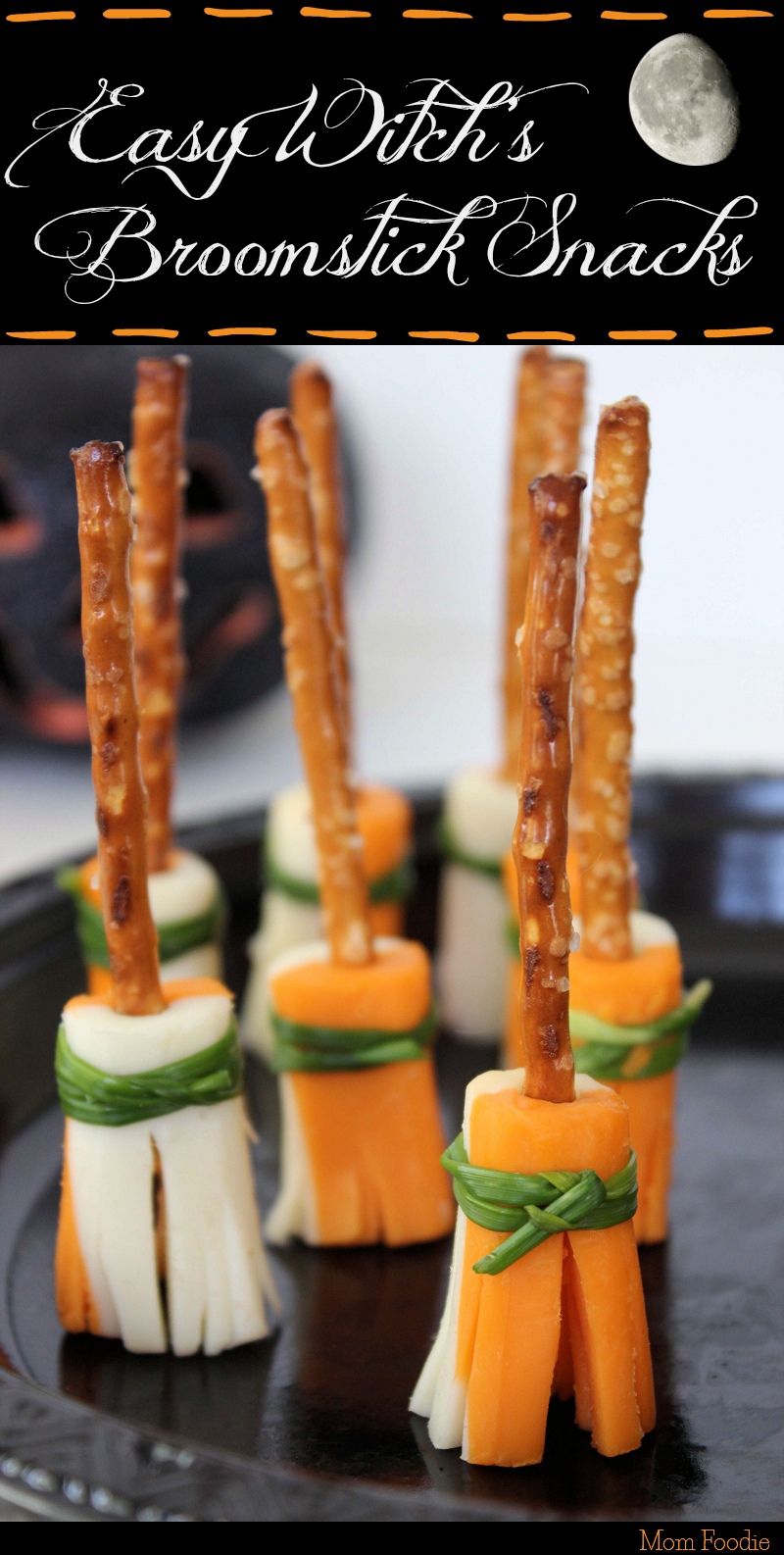 Edible witches' broomsticks are a great way to convince your kids to have some vegetables among the overload of sugar from Halloween candy. Cut some string cheese or carrots into lengthwise pieces and attach them to a pretzel stick with a chive.
For more details, visit the Mom Foodie Blog
17. Monster Eyeball donut holes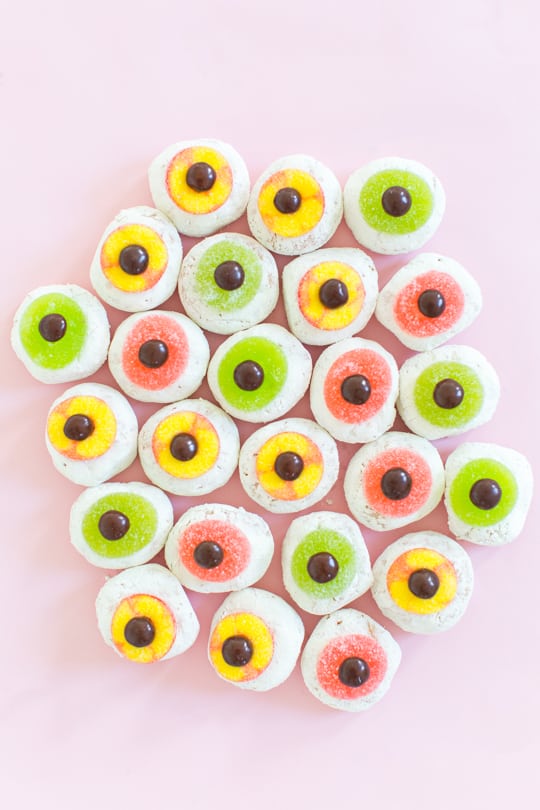 Did you make some donuts for your Halloween party, and now you don't know what to do with the leftover donut holes? Turn them into eyeballs by sticking gummies and chocolate candies on top of them.
Get the recipe at Sugar and Cloth.
18. Mini Cauldrons
This dessert will appeal to all chocolate lovers. The lava cake is rich and decadent with just enough flair to be the perfect party food on Halloween.
Learn how to make them from here.
19. Poison Apple cocktail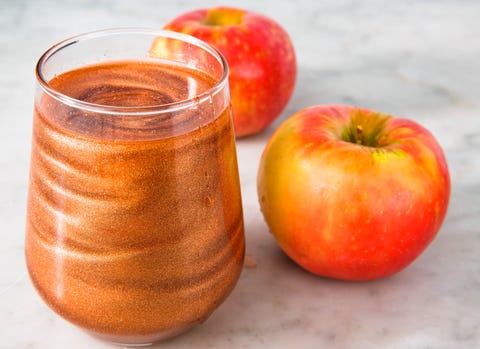 This glittery, shimmery drink tastes as impressive as it looks!
Get the recipe from Delish.
20. Black Magic Margaritas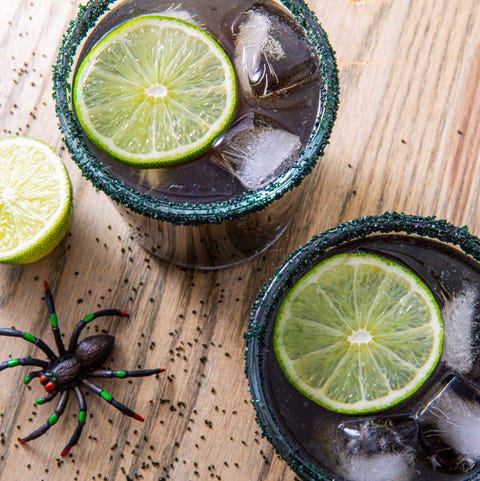 These are some terrifyingly good margaritas for the adults attending your Halloween party.  
Get the recipe from Delish.
21. Halloween themed chocolate bark.
Just melt some chocolate (could white, milk, or dark), then pour onto a baking sheet and spread out with a spatula. Add Halloween themed candies of your choice as toppings before the chocolate sets. Set in the refrigerator and voila, you have some Halloween themed chocolate bark!
22. Intestine bread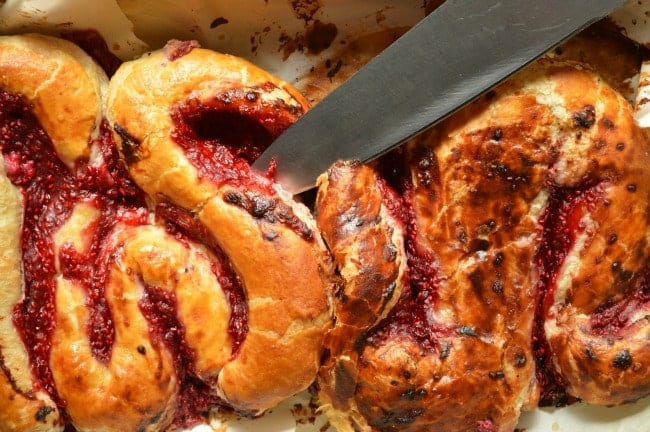 Artfully arrange some puff pastry to resemble icky intestines.
Get the recipe from Sugar Dish Me.
23. Meringue bones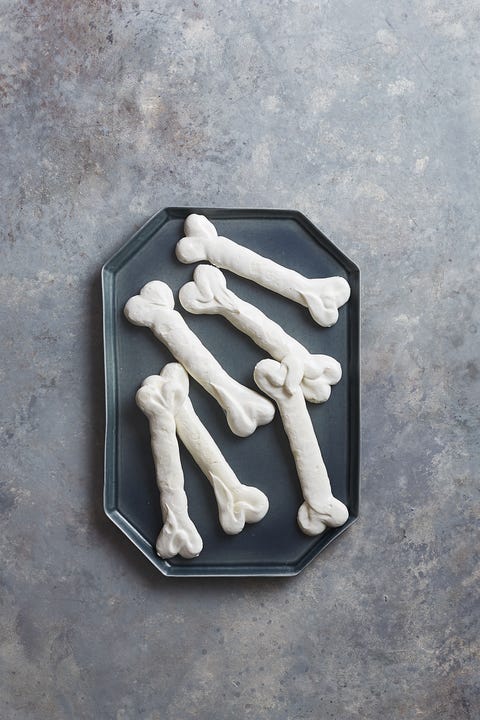 These meringue bones are simple to make. Additionally, they look spooky and taste amazing- i.e., the perfect Halloween party snack!
Learn more from the Good Housekeeping.
24. Monster Marshmallow heads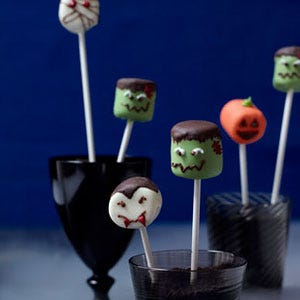 Coat your marshmallow pieces into colorful candy melts, then add candy decorations to make them look like gruesome monsters that will entertain the kids to no end!
Get the recipe here.
25. Graveyard Mousse Cups
Top off a cup full of decadent creamy chocolate mousse with crumbled Oreos to represent dirt. Then add a cookie to resemble a headstone, and there you go- a graveyard mousse cup!
The recipe is given below-
26. Mini mummy meatloaves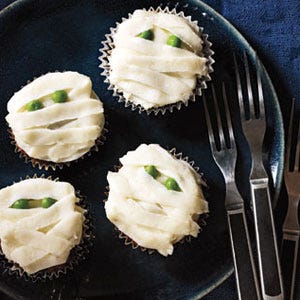 Sick of all the sugar? Serve these mini meatloaves that look like mummies and are stuffed with tomatoes.
Get the Mini Mummy Meat Loaves recipe from here.
27. Harvest Hash Trail mix
Make yourself a DIY trail mix and combine all your favorite sweets and salty Halloween snacks in a bowl.
Learn more from The House of Hendrix.
28. Chocolate-filled Pumpkins
These mini pumpkin cakes are the perfect festive dessert!
Get the recipe from Delish.
29. Pretty mirror glazed candy apple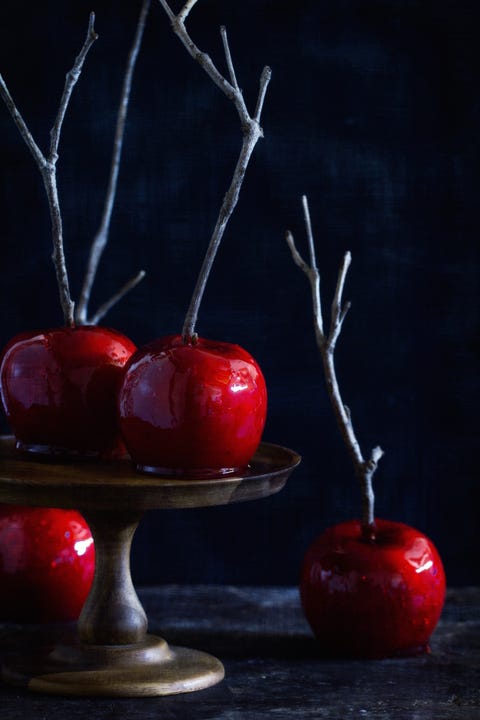 Use pretzel sticks to mimic a tree branch or sharpen and clean twigs for the same look before skewering your apples. Cover your apples with the perfect glossy mirror coating and serve up some delicious, pretty mirror glazed candy apples.
The recipe can be found at Delish.
30. Strawberry Ghosts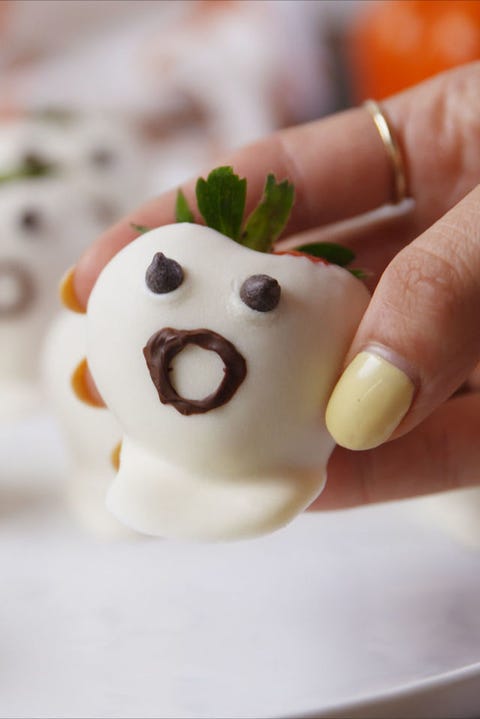 Dip strawberries in with candy melts and pipe on some spooky features!
You can get the recipe from Delish.